Our Story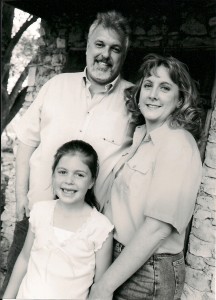 Hi, my name is Alena Morris and this is our story.  It all started back in the year 2000. Danny and I were married and began our new life in Arlington, TX. Shortly after, Danny went to work for a friend who had a Carpet Cleaning business. Not glamorous, but even Cleaning Carpet, when it is with your Best friend, CAN BE FUN! Eventually Danny and I went out on our own and Prestige Carpet Cleaning & Floor Care was born!
After the birth of our daughter, we knew we had to move closer to family. Having always loved The Hill Country, Boerne became our new home. Danny's parents, Dave and Dee Morris had lived here for over 20 years at that time. His brother, sister and families were also here, so moving closer to the Morris clan seemed like a no brainer. They were a great support to us while getting Prestige on its feet after the move to a new town.
For over 17 years, Prestige grew and became Boerne's Oldest & Most Trusted Cleaner. Others have come and gone, but Prestige stood the test of time. Working from home we served thousand of clients and made just as many friends. We stayed small because it seemed too hard to find employees who cared enough to give the high quality cleaning and the level of customer service our people expected from us.
Then in October of 2021 tragedy struck.  My sweet husband Danny passed away. It was quite a shock to our family. We never expected to be effected by COVID in this way. We continued serving clients until Christmas, but stopped after that not really knowing the future of Prestige. I wasn't comfortable having just anyone taking care of "my people". It felt like such a great responsibility. I was also so very sad. Danny and I moved to Boerne in 2004 and built Prestige from nothing.  My heart was already breaking over the loss of my husband. I didn't want my business to die as well. Many prayers were lifted up and we waited.
Enter Andrew and Celestial Hahn. This lovely Christian couple owns Clean Choice Carpet Cleaning in New Braunfels and they had been praying about moving to Boerne. We were introduced by a mutual friend in the industry who knew both of our stories.
Andrew has been in the industry for over 37 years! (That's longer than Danny was.) He has an excellent reputation and hundreds of satisfied customers. His mother was Mennonite, so he was raised knowing the importance of Faith, family and hard work.  He and Celestial have 8 children and 7 grandchildren. They are also Registered Foster Parents and in 2023 adopted another son. Celestial is a Masters Prepared nurse Nationally Certified in In-Patient Obstetrics who works at Peterson Hospital in Kerrville and is also a Clinical Professor at Texas Lutheran University. These are people I trust.
Since Celestial is busy with her career, she is not as available to help Andrew with administrative tasks. He enjoys Cleaning, meeting with Clients and likes to focus on that aspect of owning a business. On the other hand, I love being in the office but obviously cannot do the cleaning.  Our families are like puzzle pieces God has fit perfectly together. So, a Partnership transpired. You still heard my familiar voice on the phone, but there was a new face at your door.
Since February of 2022, Andrew and I have continued to work together and are grateful for the opportunity to Serve our Clients in this wonderful Hill Country. Still small, you know it will be him showing up at your door to give you the very best Cleaning experience!
We are both extremely excited and grateful for this partnership. At Prestige/Clean Choice Carpet Cleaning,  we look forward to providing you with Amazing Carpet, Rugs, Upholstery, Wood Floor, RV and Tile & Grout Cleaning for many years to come.